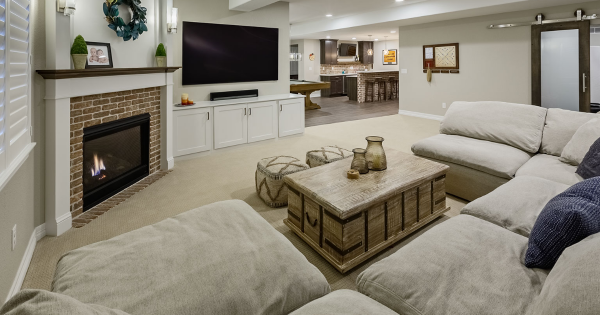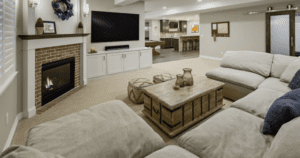 A basement redesign is among the most valuable renovations you can do. A report by Home Advisor suggests up to a 70% return on investment for an average basement remodel. Apart from that, basement remodels add utility and functionality to your home. Here are a few useful tips if you are considering turning your basement into a cozy room.
1. Pick Your Style and Go for Neutral Colors
Be clear on what you want before you begin your basement redesign project. If you settle for a cozy interior, it may include incorporating wood furniture and floors or even a fireplace.
White paint is an ideal choice for a basement. Even though many people consider it bland, it can dramatically brighten the room. Neutral colors infuse an air of tranquility that makes the room feel cozy. You can make your basement redesign pop by layering with soft and neutral hues.
You can also let the amount of light in the room influence your choice of color. For spacious rooms, use the same palette you have in your home. Add at most two dominant colors and maintain the consistency of the palette to promote a sense of unity.
2. Use Artwork and Decor Creatively
Using artwork and decor is a great way to incorporate aspects of your personality into your basement redesign. Think of items that will make the room warm and tranquil. It could be a photograph of a plant or a large piece of abstract artwork. Use lots of fuzzy pillows and fresh linen.
3. Flooring Options
In an inadequately heated room, ceramic tiles can be cold underfoot. While it may seem like a suitable option to use wood for basement family rooms, it can be prone to damage. Moisture rising from under the slab can be problematic for your wooden flooring, too. Professional basement renovators can help to mitigate the risk of water damage. For your basement remodeling project, you can go for options such as engineered wood or laminate tile. A fluffy rug is an ideal option to warm your flooring and make the room cozy and elegant.
4. Optimize Light and Space
If space is an issue, then lighting will be one of the most critical aspects of your basement redesign. A creative layering of different types of light fixtures can optimize the illumination. You can include pendants, scones, and task lamps to optimize the lighting, too. Overhead recessed lighting is especially ideal.
Consider using full-length curtains for a more spacious feel as well. They make the windows appear larger while bringing out the colors and ambiance of the room.
It's Time to Start Remodeling
A basement redesign project can turn a drab and gloomy basement into a cozy and elegant room. If you're unsure of where to start on your renovation, consider reaching out to your local basement renovation contractors at ElkStone Homes today.