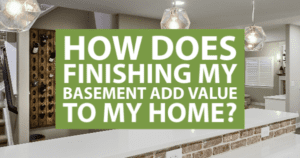 It's no secret that finishing your basement can give you some serious advantages as a homeowner. Not only does finishing your basement cost 80% less than buying a larger house but it also gives you a 77.6% return on investment that can seriously come in handy when your home goes back on the market.
With the help of an experienced basement remodeling company, you can turn your basement into a major usable living space for your property that can give you a lot of added value. Here are some of the key ways finishing your basement can help to boost the property value of your home when the time comes to sell your house.
Get around zoning codes
When your home is too small and you're looking to add onto your property, zoning codes can be a real pain in the neck. Zoning restrictions may keep you from adding certain additions to your property because they can bring your home too close to your neighbors' property. If your home is already two stories tall, too, you may not be able to expand upwards. This can be frustrating if your home feels cramped despite the second story. This is where finished basements come in handy. Finishing your basement allows you to expand your usable living space without interfering with zoning restrictions.
Make your home an income property
If you're looking to earn a little extra income on top of adding value to your home, you can turn your finished basement into an investment property with the help of a professional basement remodeling company. Finishing a basement and turning it into a rental unit (approved by your local zoning department, of course) gives you the ability to make several hundred dollars a month. You just need to be sure to conform to local fire codes. If renting out your finished basement isn't for you, you can still convert your finished basement into an apartment for your in-laws to save on assisted living expenses later on. If you and your family move, the basement apartment provides potential buyers with multiple opportunities.
Adds recreation and storage space
The last thing anyone wants is to store their belongings in a damp and dark basement covered in spiderwebs. Finishing your basement is a great way to give your home some additional storage space that clean and dry. What's more, you can use the space as a recreational area like a home gym, kids play area, teen retreat, or guest bedroom. Because finishing a basement adds to the usable space in your home, it'll be an unexpected but pleasant surprise for potential buyers later on when the time comes to sell.
Ready to upgrade your basement? ElkStone Homes is the basement remodeling company you need to take your basement remodeling design to the next level. Whether you're looking to install a new fireplace for the ultimate family room or you're looking to install a wet bar for a great entertaining space, we have the design experience you need. For more information about our basement remodeling services, contact ElkStone Homes today.