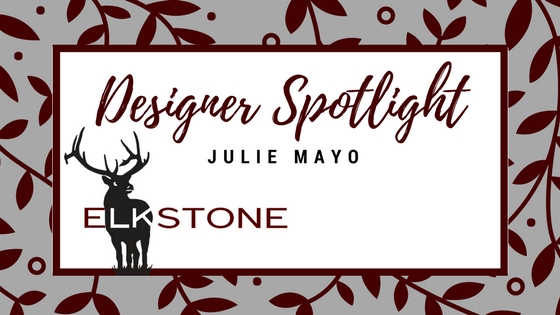 At ElkStone, we are very particular with the trades that we partner with. We strive to partner with companies that share a similar attention to detail at every aspect of the job. Today, I'd like to introduce you to another one of our Preferred ElkStone Designers. While our estimators do a great job of helping you keep the flow of your home, adding a designer into the process can up the level of that flow.
INTRODUCING ELKSTONE PREFERRED DESIGNER:
JULIE MAYO

What kind of degree did you earn?
I studied to be an occupational therapist, but my true passion has always been decorating. After I stopped working as an occupational therapist and my children went to school full-time, I decided to pursue being an interior decorator and became certified in design and decorating.
What is your signature style?
Overall, I'd say my style is transitional, which is a mix of modern and traditional. I do gravitate towards mid-century modern pieces as the bones of a given space, and then I like to add layers of texture through the use of natural woods (such as baskets), and different textiles (like throw pillows and blankets). For depth and interest, I enjoy mixing woods and metals so the space doesn't look too "match-y," and throw in a couple sculptural objects. For warmth and to bring natural color to a space, I always inject some sort of greenery, whether a group of succulents, a tall floor tree, or a vase of colorful, floral stems.
Where do you find inspiration, and do you stay up to date with current trends?
I'm always on the lookout for new ideas, whether at the mall, researching the latest styles through magazines and social media, or watching HGTV. A couple of my favorite interior designers at the moment are Studio McGee and Erin Gates. I love the bright, clean aesthetics of Studio McGee's designs, and admire Erin Gates's elegant mixing of traditional and modern and patterns and prints, as well as her ingenious use of color.
What is your feeling on trendy design?
I realize trends come and go. The key is knowing which trends will stick and become classics!
Ultimately, my goal is to create a space that will please the client for years to come and accommodate their changing needs. For instance, open shelving in kitchens has become a popular trend in recent years, as it helps a room feel more airy while providing storage for everyday essentials. However, they have the potential to make a space look too busy and even unattractive, if there is an overabundance of items crowding the shelves or if one is not accustomed to styling open shelving. My job, then, would be to honor my client's aesthetic desires while choosing pieces that are likely to remain stylish over time.
Why should one hire an interior decorator?
Hiring an interior decorator is a smart move for those who have invested a good bit of money in their home, and want to be able to showcase it at its best. I can help clients personalize their home décor by tackling decorating, furnishing, and spacing issues. My aim is help people create a beautiful space that will prove equally functional for their family's lifestyle. A good decorator will accomplish this while remaining true to both the client's personality and budget. As an added incentive, I can save my customers money on furnishings and decorative accessories with my designer's discount. Depending on the scope of the project, you may be able to get some or all of the interior decorator's services for free due to the money saved utilizing my discount!
How do you, as a decorator, help people identify and communicate their unique style to you?
Thank goodness for Pinterest! Whether clients are honed in on exactly what they want stylistically, or they have a difficult time figuring out or expressing their preferences, I ask them to browse through Pinterest and create an idea board by pinning pictures of rooms and furniture that appeal to them. This allows me to see what they are drawn to, and helps them communicate their style to me, as a designer. It will also be a source for inspiration for me when designing the space.
How does the design process flow?
The design process will vary depending on the type of service my client chooses. For instance, the E-Design package is ideal for those who want assistance picking out furnishings, but are confident styling the room themselves with limited guidance once their selections arrive. In addition to providing a layout of furniture placement, I will customize two different design boards, complete with suggested furniture and decorative accessories. Another package I offer is the Hands-On package which is designed for those who want more hands-on decorating assistance. In addition to services offered in the E-Design package, I can make trips to stores and the client's home, at which time I will repurpose their existing furnishings and decorative accessories, and incorporate the new. I will pull the room together with the finishing touches, making sure the space is arranged to suit my client.
How much time does an average basement project take once the construction is finished?
Again, this will depend on the scope of the project and the type of service one chooses. I have some clients who have no idea where to begin to re-decorate their home, and some who have an idea, but need help tying pieces together. Then there are some who simply lack the time to decorate their dream home. Another determining factor is how quickly a client makes decisions. Overall, though, most projects are completed within 4-8 weeks.
How do you manage the project budget?
The mission of my company is to blend high-end investment pieces with budget-friendly items to create an aesthetically pleasing space. As a decorator, it is imperative that I know the overall budget for the project, because this will serve as my compass while searching for ideal furnishings. If a client has their heart set on a high-end item, we may be able to find ways to save in other areas, in order to facilitate the purchase.
What is your communication style?
I try to accommodate my client's communication preferences, whether that be via phone, text, email, or face-to-face. In order for the project to run smoothly and for the client to enjoy their new space as soon as possible, maintaining good communication is vital. To achieve this, I always respond within 24 hours of receiving questions, and in return, I ask the client to get back to me in a timely manner with feedback.
How do you document and share your work?
I am in the midst of getting my website up and running. In the meantime, you can find me on Instagram at hilodecorjulie and on Facebook at HiLo Decor. Prospective clients can view some of my completed projects through these social media.
CONNECT WITH JULIE MAYO ON SOCIAL MEDIA