Homeowner's Buying Guide to Finishing the Basement
You can use the following questions to qualify the basement builders that you're receiving bids from. ElkStone's answers are included below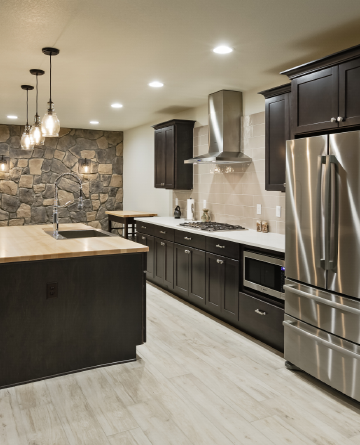 Question 1 – "On what day does trim carpentry start?"
Answer – For ElkStone it's always the third Wednesday after we start. We know this because we have a standard schedule for every job. In fact, we can tell you what's happening every single day – who's going to be there and what they'll be doing. This question gets after the builder's schedule: Do they have one? A schedule window like "8-10 weeks" is really not a schedule – it's a guess. I know because I used to do this myself! Typically in this practice they'll call their subs just prior to starting in hopes they'll be available. With ElkStone, all our workers know weeks ahead of time what day they need to start your job, what day they need to finish your job, and exactly what to bring to complete your job. This is one of the reasons ElkStone consistently completes quality basements in less than four weeks with happy customers. ElkStone has been doing this since January 2008 so we're really good at it. Cutting the completion time by 66% makes a huge impact towards a very pleasant construction experience. Just think, you can be enjoying your new space, watching the movie on the big screen and getting drinks from the bar – but with other contractors you'd have two more months of noise & dust.
ElkStone consistently completes quality basements in less than four weeks with happy customers.
Question 2 – "How many studs are you planning to use to frame my basement and long are they?"
Answer – This question gets after how detailed is the builder's estimate. ElkStone will give you an answer something like 323 studs 92-5/8" long. We calculate exactly what it takes to build your basement. We can even tell you how many sheets of drywall and linear feet of baseboard we'll need specifically for your project. ElkStone measures the wall length from the plan and inputs that data into our database, which uses a formula to calculate exactly how many studs are required. This means two things:
Any stages of construction require a careful budget calculation.
We won't charging too much or too little for the materials
We won't cover our mistakes with change orders or cutting corners.
Because if the builder doesn't estimate your job correctly, you become a liability to them and they'll prioritize other jobs over yours. This could lead them to compromise the quality and service of your project so they can save a buck.
Question 3 – "Will my basement receive the attention it deserves during construction?"
Answer – This question will allow you to get an idea of how experienced your builder is and what resources they'll allocate for your job. ElkStone has a full-time Project Manager who is assigned to your job and runs your basement from start to finish. Our Project Managers are pros at their job and critical to our operation. Kind of like an orchestra conductor, our Managers keep the work site humming and ensures you're in-the-know and satisfied. With our proprietary scheduling timeline we are able to stagger our start dates which allow us to build your basement in 5 weeks and still give you and your basement all the attention they deserve.
Question 4 – "How long have you been working with your drywaller & electrician?"
Answer – This question gets at the relationship with trade partners. Our answer is 14 & 15 years respectively. Our relationships mean everything to us. Our philosophy is that once we find a trade partner who shares our values in terms of service, quality, and reliability, we hold onto them! And because we pay fairly and promptly (every Friday) they demonstrate extreme loyalty to ElkStone.
Question 5 – "How much tile do I need to purchase, where do I purchase it, how much will it cost, and when do I need it by?"
Answer – This question addresses what we call the 'Project List'. This is a document we generate specifically for your project and it includes everything you need to know as it relates to items you are personally responsible for selecting such as tile, carpet, & electric/plumbing fixtures. We provide you with three tile vendors with seven locations throughout the metro area that we recommend. We also let you know what quantity to purchase for each area being tiled, who provides ElkStone discounts, how much you can expect to spend on your tile, and the date you need to have it purchased. We do this not only for tile but every item you need to purchase.
Question 6 – "What is your pay schedule?"
Answer – We require no money down, no money to start, no money to schedule, and no design fee. In fact, the first invoice isn't due until three days after we start. ElkStone has a very equitable pay schedule because neither you nor ElkStone is too extended at any one point in time. Our pay schedule is based on progress payments:
1st payment: Due three days after we start, so you know we're committed to the job and we've allocated all our resources in terms of materials, labor & scheduling.
2nd payment: Due after drywall completion.
3rd and final payment: Imagine walking into your basement and you smell the fragrance of new carpet and Pine Sol cleaner. The windows are almost invisible because they've been Windexed and the whole basement looks and feels like a brand new model home. It's only at this point when we're totally complete that the final payment is due. So I would think twice about paying a contractor before work has begun and settling up before your basement is complete.
Question 7 – "How many basements did you finish last year?"
Answer – ElkStone finished exactly 415 basements 2021. This question addresses a company's serviceability and reputation. ElkStone has a lot of satisfied customers because we deliver what we promise. We don't charge extra for the benefit to move into your basement two months early, but that feature is unique to ElkStone and is a significant value to you. One of our company core values is: 'All of our customers refer us always' and this is only possible because your satisfaction is our number one goal.
Question 8 – "Have you finished every job you've started?"
Answer – Yes! ElkStone is proud of our reputation and we take it very seriously because it means to world to us. Not only have we finished every job we've started, but ElkStone also has paid out in full to all our subs and vendors. In fact, we pay our subs in full every Friday.
Question 9 – "Will you be on time and promptly return my calls?"
Answer – Keep in mind, that the other contractors bidding on your basement are on their best behavior trying to make a good impression. If they're slow in getting back to you now, how are they going to act after they deposit your first check? I always ask my clients if they've already received other bids and I can't tell you how many times their answer is, "I've left messages, but you're the first one I've talked to." ElkStone's responsiveness up front is indicative of our service throughout the project. It's our way of life evident in our work.
Denver Colorado's Best Basement Finishing Company!
For more than 8 years, ElkStone Basementshas been giving homes a beautiful makeover with our quality basement remodeling and basement finishing services in Denver, Aurora, Highlands Ranch, Centennial, and the entire Denver metro area. You'll find our commitment to value, service, and a speedy basement makeover gives ElkStone Basementsa leg-up on the competition. For starters, we'll come to your home for a free and comprehensive basement design and basement finish consultation to discuss how we can make your dreams become a reality. After our initial consultation, we'll provide you with our custom basement plans and a proposal for your basement design that will meet or beat the price of the other basement companies.
Plus, our goal for your experience with ElkStone Basementsis for it to be hassle-free and filled with enjoyment. Our professional staff will complete your basement remodeling project and be out of your home in five weeks – this is twice as fast as the average basement renovation company. Ask any of our previous customers or read our testimonial page, and you'll see customer satisfaction and service are a top priority at ElkStone BasementsIn fact, a large portion of our business comes from the wonderful references of our satisfied customers.