At ElkStone Basements, We Care!
To bless and enrich the lives of all those we interact with is the cornerstone of ElkStone's values. From customers to subcontractors, we aim to make a positive impact on everyone we are in touch with. Our commitment to this value is reflected in every aspect of our operations. We prioritize ethical business practices and strive to foster a culture of honesty and respect within our team.

ElkStone's Purpose
At ElkStone, our purpose is to create exceptional living spaces for our clients. We are also committed to taking care of our customers and providing them with a hassle-free experience. Throughout
the process, we strive to stay true to our core values of humility, teamwork, and
continuous improvement. Our goal is to exceed your expectations and increase
the value of your home while honoring your family and respecting your space.

ElkStone's Core Beliefs & Values
Customer satisfaction is our top priority at Elkstone Basements. We take ownership of our work and strive to do it right the first
time. With a strong emphasis on teamwork, we prioritize both our customers and
employees. Our goal is to ensure you get to enjoy a safe, pleasant, friendly environment. We also strive to provide a fun and positive work environment for our employees to grow and prosper.

ElkStone's Core Competencies
What sets ElkStone apart is our unwavering commitment to excellence in customer
care, communication, teamwork, systems and processes, quality craftsmanship, price value, and speed. As a customer- centric company, we make it a point to listen to and understand your needs to deliver an unparalleled construction experience and a beautiful and enjoyable living space.
Number of people blessed in the last 15+ years
Service Project Recipients
Customers & their Family Members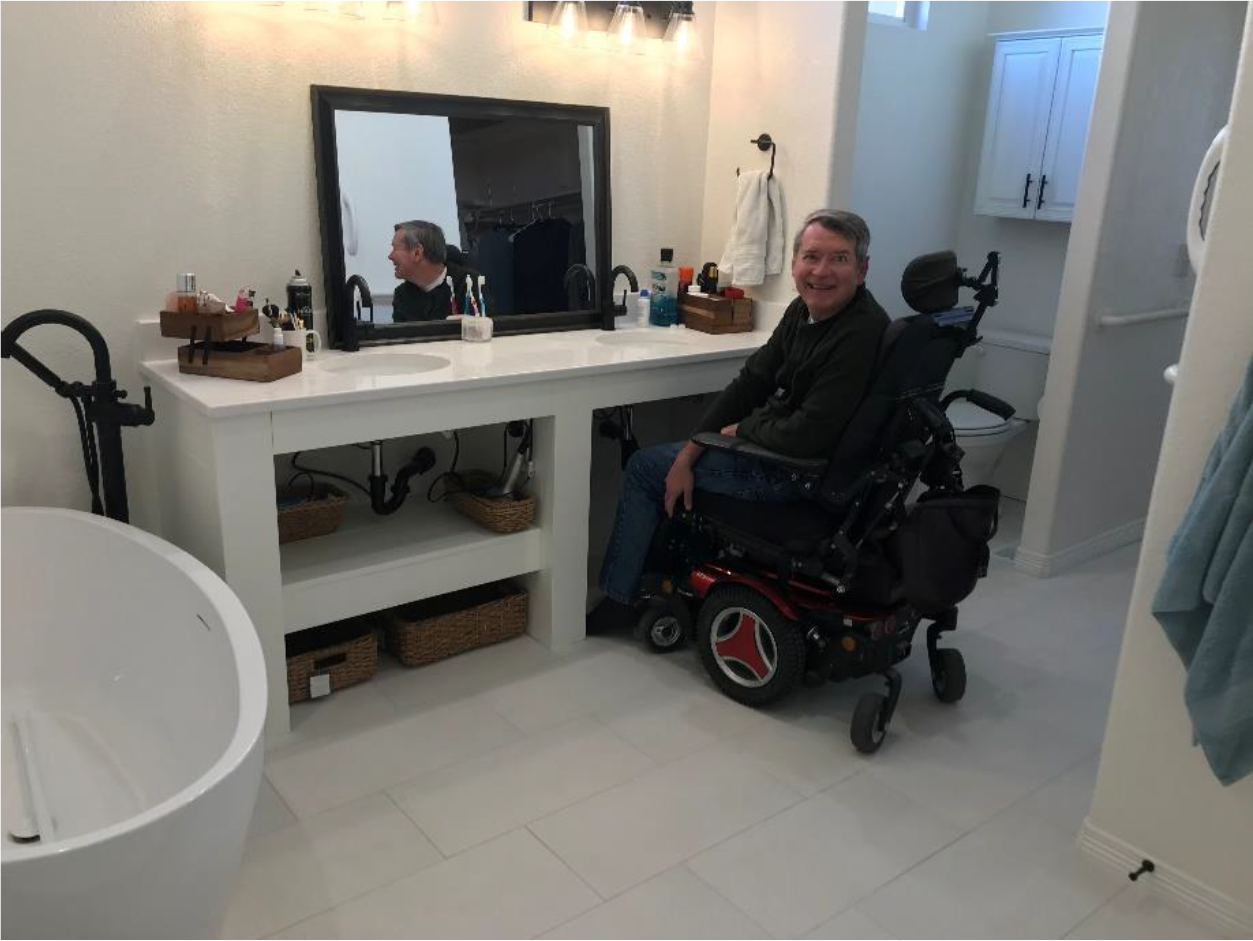 In January of 2022, ElkStone Basements did a complete gut and remodel of a master bathroom that needed safer accommodations for this homeowner who is wheelchair bound due to Multiple Sclerosis. As a company, we were blessed to be in a position to give back to a much deserving family and provide a more accessible and safer bathroom.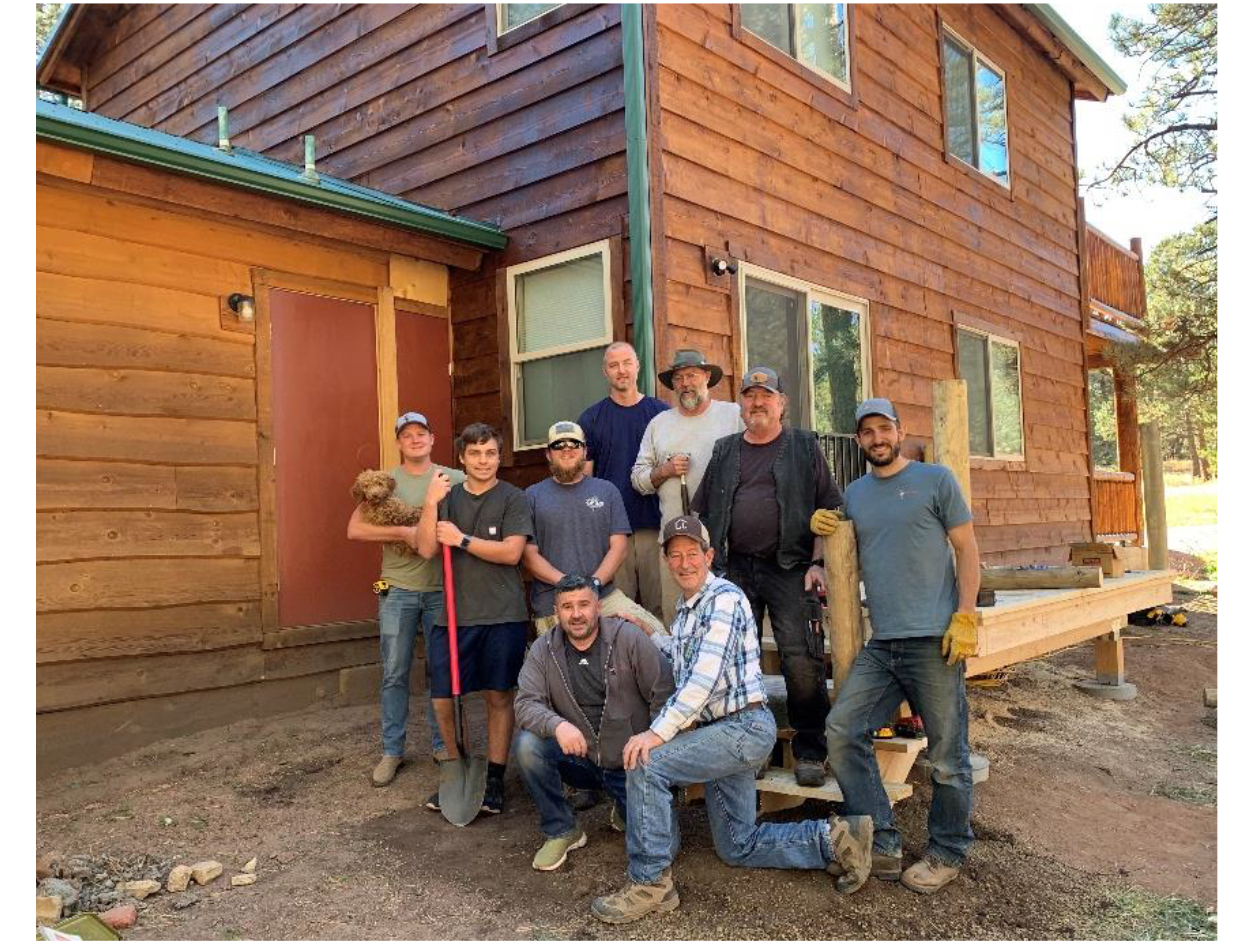 Every year, several team members from ElkStone Basements help with service projects at Camp Elim, a Christ-centered retreat for youth and young adults located in Woodland Park, CO. A couple of the projects include replacing the siding on a staff member's living quarters and
building a new deck for one of their cabins.

Contractor Tesimonial
Jalco Drywall Inc 3803 West 103 rd Drive Westminster CO 80031
www.jalcodrywall.com
April 5, 2023
Dear ElkStone:
First and foremost, I would like to express my gratitude and thankfulness for the opportunity to work for such an amazing company. It has been an adventure. Mr. Benedetto and his vision for this company, and all the staff and its constituents, have really made it above and beyond the rest. I am for sure proud to be a part of this team.
It has been a pleasure working for this esteemed company for the last seven years now. I take personal pride in joining my label, company and my name with ElkStone Basements and what it represents principle, honesty, respect and business acumen. As the owner of Jalco drywall, I am loyal to ElkStone's growth and I am committed to continue to enhance my qualifications and contribution to it, and thus to our mutual growth. Not only has ElkStone served the front range with quality service and an amazing basement product, but he has a heart that loves to give and pour back into the community. Several of these projects that come to mind are Jones master bathroom remodel for a disabled vet.
Oh yes! The happiness on their face was priceless. Another project that we were a part of was the Revelation Ranch. It was so refreshing to contribute to a project meant to minister to men, women, youth etc in a beautiful setting nestled in the mountains surrounded by God's nature really struck a chord in our hearts. We felt a little closer to God that day. Another project that we hope to be a part of in the near future is FCA- Fellowship of Christian Athletes. A strong fellowship that has been around since 1954, it will be exciting to contribute, even if in a minute way, As you can see, ElkStone has personally enriched our lives and our company's culture. We have partnered with ElkStone and its vision as well as its heart, to somehow contribute our positive touch to the fabric and tapestry of the community.
Sincerely,
Jalco Drywall Inc
Jose A. Lopez
President
Enriching People's Lives!
At ElkStone, we believe in the power of giving back to the community. Hence, every year, we make it a point to channel our time and
resources to various service projects in the area, such as Camp Elim, a Christ-centered retreat for youth and young adults. We are honored to contribute to such a meaningful cause and help enhance the lives of those we serve.
We are also dedicated to creating unique and exceptional experiences for our clients through our exclusive start-to-finish process, which is the quickest turnaround in the industry.
When you choose ElkStone, you're not just getting a beautifully finished basement or a newly renovated bathroom. You're getting a company that cares about your family and your home. Let us transform your living space into something truly extraordinary.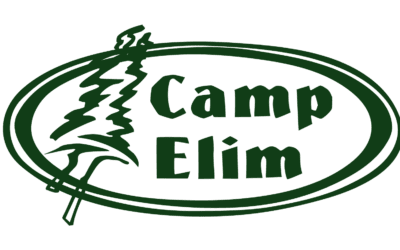 Camp Elim is a Christ-centered retreat for youth and young adults located in Woodland Park, CO that began in 1960. They offer a wide variety of...