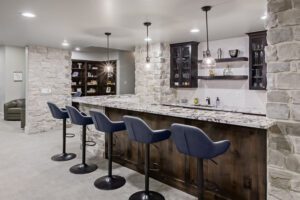 When remodeling your home, starting with the basement can be a great idea. For example, if you are in an area zoned for multi-tenant use, you can rent out your basement at the cost of 50-75% of your monthly mortgage. Not only will you be left with a lovely finished basement, but you'll also have the opportunity to make a profit from completing that quality basement remodel. After all, who doesn't want their own basement wet bar to use when entertaining guests?
Aiming for Comfort
Ensuring your basement is livable, you may need to make some changes to keep the cold out and the heat in, especially if you're in a place with long winters, like Denver or Chicago. Consider hiring a professional basement finishing company to complete checks like making sure your basement's insulation levels are up to par. Adding a new fireplace could count as a kind of two for one–it heats the space while also adding a nice room centerpiece. Whatever you do, get creative and try to think of renovations in terms of what will be the most functional.
Thinking About Aesthetics and Functionality
After completing the upkeep to make sure the room temperature is comfortable, it's time to add some touches to your space that you've always wanted. If you've always dreamed of having your own granite basement wet bar or a wine cellar, now is the time to start planning. Going into your basement remodel, it can be helpful to plan the whole room out ahead and know what ambiance you would like your space to give off. Whether you want rustic or modern, you'll have to take into account the size of your space and any barriers like walls or pillars that are in the space. Then you can plan the perfect spot for your basement wet bar, and you can decide if wooden floors would be more functional for you personally.
Picking the Best Lighting for Your Space
Are your ceilings low or high? Are there any windows allowing for natural light, or does your basement lack windows? Those are great starting places to begin picking out what kind of light fixtures are right for your basement. If your basement has high ceilings and you are aiming for a modern vibe, consider adding bold hanging light fixtures above your sleek basement wet bar. If you have lower ceilings, consider fixtures that sit more snugly against the ceiling. Be sure to really think through what lighting you want and consult professionals for their opinions, too. You are putting all of this effort into upgrading and perfecting your space, so you want to make sure you can see everything clearly.
The Bottom Line
Making your basement your own doesn't have to be stressful. It can and should be enjoyable for you! Don't forget to ask for help and hire professionals when necessary. Ultimately, finishing a basement opens up all kinds of opportunities for the homeowner–from renting the space out to having a sparkling new space to use for entertaining on the weekends. Whatever you choose, don't cut corners and make sure everything turns out exactly as you want it to.