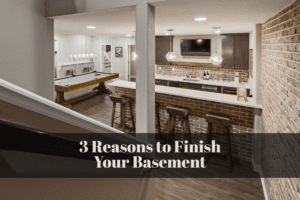 When people buy or construct a house, they might not finish the basement thinking that it's not the most important part of the home or that they will barely use it. However, here are some reasons why you should invest in your basement, and how it can become a huge asset in your home.
1. Adding Value to Your House
According to Investopedia, if you are located in a zone where multi-tenant use is allowed, you could rent out your basement and make between 50 and 75% of a monthly mortgage on that rent alone. Even if you're not planning on renting that space, a finished basement will still add value to your house. You can also use your basement for various purposes. It can become a separate living area or a rec room for gatherings or even a bar. It could also work as an in-law suite in case your parents or your spouse's parents need a place to stay during emergencies or visits. Don't underestimate how useful this space can be for your family. All of these ideas can improve your daily life and ensure that your home has great value when it's time to sell.
2. It's Energy-Efficient
A finished basement can save you energy because this area can become drafty if it's not well-insulated, making your HVAC system work double time to make up for the airflow. You are going to lose a lot of heat if your basement walls are unfinished. In the long run, that can lead to hundreds of dollars in expenses.
3. Adding More Storage Space
Even when you have a big house, sometimes it feels like there's not enough room to keep everything you own. In a finished basement, you'll be able to store your valuables or boxes without fearing that they might be ruined due to water leakage or insulation issues. Depending on your home, you might be missing out on a huge area by not fixing up the basement.
A finished basement is extremely useful for your family. If you think your basement could never become a livable space, think again. Give us a call today to create the basement of your dreams.