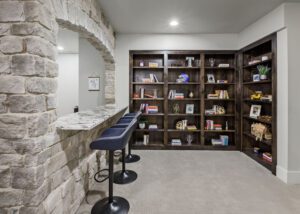 Basement renovations are exciting not only because you're adding some serious value to your house (77.6%) but also because you're essentially getting a whole new floor added to your home without having to do any construction. You might already have an idea about what you want to do with your finished basement. But before you can officially start making the plans for your new wet bar or family room, you'll need a choose the right flooring option.
With so many different flooring options available, it can be challenging to choose which flooring option is right for you. That being said, here are some of the top flooring choices available to you and the pros and cons of each.
Polished concrete. Chances are your basement floor is already made of concrete. By polishing this flooring, you're left with an extremely strong and resilient flooring option that's capable of withstanding heavy foot traffic and equipment. Polished concrete is easy to maintain, cost-effective, and has a long lifespan. However, polished concrete isn't very forgiving if something or someone falls.
Engineered hardwood. Basements tend to have moisture even when they're finished. For this reason, hardwood floors aren't the best choice for basement renovations. Engineered hardwood, on the other hand, is dimensionally-stable and holds up well in mild amounts of moisture. It has great sound-absorption qualities and it's one of the most aesthetically pleasing basement flooring options. The downside of using engineered hardwood in your basement is that it does require you to use a subfloor where it can be nailed or stapled for installation.
Wall-to-wall carpeting. This is the most popular flooring option for families because it creates a soft, cushy floor for small kids. You don't have to worry about anyone falling and getting hurt badly. Some families might feel uncomfortable with the idea of using wall-to-wall carpeting in their basements because of the risk of moisture absorption, but basements typically have less moisture than the average bathroom, which makes them perfectly safe for finished basements.
Need a professional opinion on your basement flooring options? ElkStone Homes has you covered. Our Denver basement renovation professionals can help you make the right flooring choice while finishing the rest of your basement to create the renovated space of your dreams. To learn more about our basement renovation services, contact ElkStone Homes today.