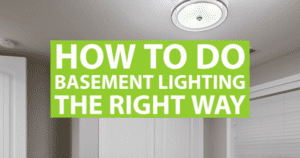 When it comes to a basement remodel, one of the biggest challenges is successful lighting. Lighting is vital for any basement remodel because it helps transform the space from a spooky boiler room to a cozy family room.
Even with a new fireplace and new wet bar, a basement remodel will still feel like a scary basement if you don't light it the right way. So what's the right way to light your basement? Here, we'll dive into the lightning techniques you need to transform your finished basement into a basement family room you'll love.
Install even, all-over lighting
It's a good idea to work with a professional basement renovation company because basement lighting is best when planned before construction begins. Your basement will need enough outlets installed before the ceilings and walls are closed up. All-over lighting with recessed ceiling lights eight feet or higher will give your basement remodel the best possible lighting.
Make sure that your recessed lights are properly insulated, too, to prevent heat from escaping. Because the standard American home has nearly doubled in size since the 1950s and basements are already typically cooler than the rest of the home, improper insulation can leave your basement feeling chilly in some areas and warm in others.
Consider using reflector bulbs with flood beams for optimal broad light distribution throughout the room. Talk to your basement renovation team about evenly spacing the ceiling lights to ensure the entire area is evenly lighted. You don't want some parts of your basement to be light while others are dark.
Incorporate the other two types of lighting
While general, all-over lighting will be your best friend when it comes to successfully lighting your basement, you want to be sure to use all three types of lighting throughout the space. Aside from general lighting, the other two types of lighting include accent lighting and task lighting.
Accent lighting refers to light that focuses on a specific area as a way to highlight that area. Common types of accent lighting include wall sconces and track lighting. Task lighting is lighting refers to lights in areas where you're working or reading. For instance, if you have a wet bar design set up in your basement remodel, you'll want to be sure to have task lighting in that area so you can see what you're doing when you're serving drinks for friends. By using all three as a team, you can be sure your basement will have a warm, friendly vibe to it with no scary shadows in sight.