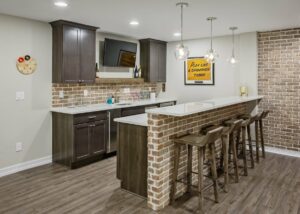 When you finish your basement, you're not only gifting yourself with a 77.6% ROI. You're also maximizing the space that you already have to create a warm and welcoming area you can have fun with. Turning your space into a new wet bar is one of the best ways you can bring new life to your finished basement.
But what are the benefits of turning your finished basement into a new wet bar? Here are a few advantages you can look forward to when you install a new wet bar in your finished basement.
Wet bars create an instant entertaining space. It can be tricky to prepare food and drinks while keeping your guests entertained. In fact, that's one of the top reasons why open layout kitchens and living rooms began trending in the first place. No one likes to feel left out, and when you're in the kitchen preparing drinks for your guests you might feel cut off from the crowd. By turning your finished basement into a new wet bar, you can entertain guests with drinks and food at the bar while keeping your friends and family around your "work" space. This way, you'll never feel out of the loop.
Your drinks actually stay cold. One of the biggest party killers, when you're entertaining, is when your drinks get warm on the beverage table. With a wet bar, you can keep wines, sodas, and other mixers fresh and refrigerated. You never have to worry about a guest being served a poorly-made cocktail. What's more, you can give yourself more space in your main refrigerator for your family's actual food and beverages because you'll be keeping wine, beer, and soda downstairs.
You can preserve your main kitchen area. Your kitchen can be a big entertaining area, especially if you have a large kitchen island with casual seating. But depending on how many people who have over and how frequently you entertain, this large amount of traffic can cause some serious wear and tear on your kitchen. With a basement wet bar, you don't need to worry about overcrowding your kitchen, making your kitchen dirty, or wearing it down over time.
Ready to remodel your basement for your new wet bar? We've got you covered. ElkStone Homes offers professional basement renovations to turn your basement into a functional, luxury room you can make your own. For more information about our wet bar designs and basement finishing services, contact ElkStone Homes today.