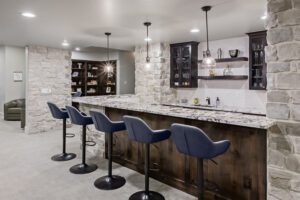 When you decide to renovate your basement, there are plenty of ideas out there you can use to transform your space. For those who thrive on entertaining, a basement wet bar is a great choice.
A wet bar is a small bar that's used for mixing and serving drinks. Unlike a normal bar, also called a dry bar, a wet bar has a sink with running water. Think of it as a mix between a galley kitchen and a bar.
That being said, when you're creating your basement wet bar, it's essential to include a few common elements to really make your bar stand out. Here are a few elements you can include in your basement wet bar to really make it great.
Open shelving
The home remodeling market is currently worth $450 billion, and open shelving is a major trend in kitchen renovations right now. For wet bars, in particular, open shelving provides easy access to spirits and really adds to the traditional bar aesthetic. Installing open shelving in your wet bar keeps you from having to mess with awkward doors and face frames to find the right ingredients for your drinks.
Symmetry with your home
Some homeowners choose to switch up the style of their basement during their basement remodeling. But if you're going for a blended-style aesthetic that transfers the style of your home from upstairs to downstairs, consider keeping your wet bar in tandem with the rest of your home's interior design.
You might choose to have similar countertops in your wet bar and upstairs kitchen or similar cabinetry. Symmetry helps make your basement wet bar really feel like a part of your home rather than a separate space.
A refrigerator
Most wet bars have a refrigerator of some kind incorporated into their overall design. This helps to keep certain wines nice and cool for when guests arrive. When considering which kind of refrigerator to incorporate, make sure to choose one that fits the size and style of the space. Paneled and stainless refrigerators are both common favorites for wet bars. Depending on how much space you have in your basement wet bar, it might also help to have an ice maker.
Looking for a basement remodeling company to make your basement wet bar the ultimate space in your home? ElkStone Homes has the experienced basement finishing services you need. To learn more about our basement remodeling services, contact ElkStone Homes today.