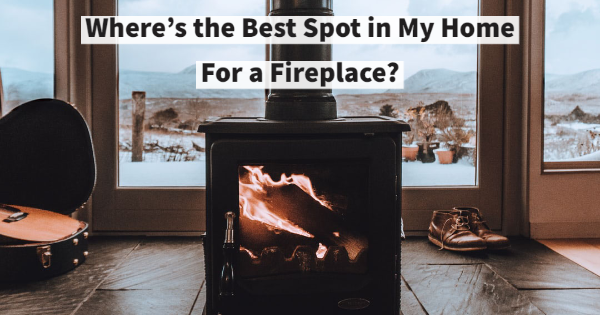 Although many of us are looking forward to getting outside now that temperatures are more comfortable, there's nothing quite like spending a chilly evening curled up in front of the fire. And although over 50% of homes on the market are over 40 years old, you might be surprised to learn that many of them don't have working fireplaces. A good fireplace design can make all the difference in how your family enjoys your home — and if you're missing this element, there's no better time to add it.
But where exactly should your new fireplace go? If your layout isn't exactly traditional or you're simply looking to explore the different options for fireplaces, you might not immediately know where one should be installed. We're sharing a few options for where to locate this feature in your home to give you a good jumping-off point when developing your fireplace design.
Family Room
One of the most common fireplace designs involves the main living room or family room. It's a traditional option that allows everyone to enjoy those feelings of warmth and connection. It's a great way to welcome your guests, as well, and can serve as an excellent statement piece in an otherwise neutral space.
Master Bedroom
What if you want to enjoy your fireplace in a more intimate way? A bedroom can be an ideal location for a fireplace, particularly if you have a lot of space to spare and your home heating system isn't doing the trick. Installing a fireplace here can make for some incredibly cozy and romantic evenings. You can enjoy the crackling fire from the comfort of your bed — a true luxury.
Outdoor Space
If you love to entertain, don't forget that some fireplace companies can install this feature outside! Whether you want an eye-catching feature that encourages your friends and family to gather within an outdoor sitting or entertainment area, installing a fireplace here can be a great way to go. Keep in mind that the same types of fireplaces may not always be appropriate for certain spaces. However, if you have the room, you can achieve a gorgeous fireplace design that will act as the centerpiece for any good conversation.
Basement
Although this location may not be conventional, it can certainly add a lot to your property. If you're planning on undergoing a basement renovation, adding a fireplace to the design can give the room a whole new feel. You can instantly turn your basement into a relaxing haven or the epicenter of entertainment with the addition of a fireplace. Alternatively, if you're turning your basement into an in-law suite or income property, adding a fireplace can be a huge selling point.
While there are certain spots in your home that may already be set up for fireplace installation, that doesn't mean there will automatically going to be rooms that are off-limits. A reputable fireplace company can help bring your vision to life in almost any location. For more information on how we can add a gorgeous fireplace to your home, please contact us today.