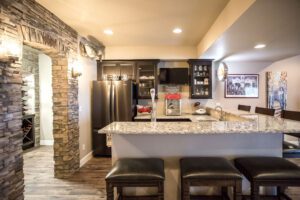 Many homes across the U.S. are multi-generational with three or more generations sharing the same household. In fact, according to data from the Pew Research Center, 19% of the population lives with multiple generations.
If your parents or in-laws are coming to live with you, there's a good chance your first thought may be to buy a larger house. But finishing your basement actually costs 80% less than buying a larger home, making in-law suites a great alternative for additional space.
To help you create an in-law suite worthy of your loved ones, here are three elements to include in your basement renovation for the ultimate in-law suite.
Maximize lighting. Natural lighting can be hard to come by in a basement renovation. Some basements only have small windows along the top of the room while others have no windows at all. Because of this, it's all too easy for basements to have a dark and spooky feeling to them. By maximizing the lighting in your basement, you can help to turn your basement into a bright and cheery place. Consider using recessed lighting with warm bulbs.
Install a separate entrance. If your basement allows it, consider installing a separate entrance for your in-law suite during your basement renovation. A separate entrance gives your loved ones an extra sense of privacy and independence. They can still live apart from the rest of the home while enjoying being closer to the family.
Set up a kitchen. It can be frustrating for your loved one to have to come upstairs to use the main kitchen every time they want to cook for themselves or need a snack. Setting up a finished kitchen during your basement renovation is a great way to give your parents or in-laws their own separate space where they can cook as they please. What's more, if it'll be a while still before your parents or in-laws move in, you can use the basement kitchen as a new wet bar.
Ready to get started on your basement renovation? We've got you covered. ElkStone Homes offers basement finishing services to help take your in-law suite to the next level. For more information on finishing a basement or adding a new fireplace or wet bar, contact ElkStone Homes today.