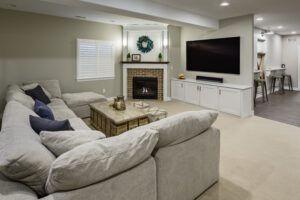 Finishing your basement is a great way to add some serious value to your home. But without the right design choices, your finished basement might still end up feeling like a dark and spooky room.
Fortunately, there are chic and simple ways you can elevate your finished basement. One idea to elevate your basement is to rethink how you use the space. Remember, your finished basement isn't just a storage area anymore.
Here are a few design tweaks you can make to turn your basement into a stylish and functional area for you and your family.
Add a brick veneer
Over 50% of houses on the market are over 40 years old. Older homes often come with a lot of character including exposed brick walls. In some cases, basements already have these brick walls installed and all you need to do is dress it up with some paint or a thorough washing.
However, if your basement doesn't have its own brick walls pre-installed with your home's foundation, you can add one with a brick veneer. A brick veneer gives your basement the aesthetic of a brick wall without the brick-and-mortar masonry that goes into adding an actual wall. Talk to your basement remodeling company to learn more about brick veneers for your basement design.
Install a fireplace
A new fireplace is a great way to instantly add style to your basement. The two most popular types of fireplaces for finished basements include electric and gas fireplaces.
Electric fireplaces are programmed to create a crackling noise without producing heat and you can change both the style of the flame and the logs. With these types of fireplaces, you get all the aesthetic advantages of a fireplace with none of the maintenance.
A natural gas fireplace is also a popular choice for finished basements. These types of fireplaces produce warmth for the entire basement, which can be relaxing in a family room. Gas fireplaces create a nice ambiance and generate practical revenue because of their warmth.
Bold wallpaper
Wallpaper is one of the most popular trends in interior design right now, and not just any old wallpaper. Bold wallpaper. Placing bold, elegant wallpaper in a high-traffic area can instantly give your finished basement that wow-factor it might be missing. Consider wallpaper in plant patterns that are green and leafy to keep the pattern from being overwhelming.
Not sure where to start when it comes to elevating your basement? ElkStone Homes has the basement finishing services you need. We'll help you find the right design options for your finished basement. For more information on basement renovations or basement fireplace designs, contact ElkStone Homes today.