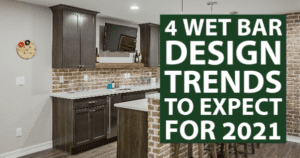 It's no secret that housing trends come and go, but that doesn't make them any less fun to play around with. This is especially true when it comes to wet bar design. The average basement remodel can have a 70% ROI, and a modern wet bar with the right look may even boost your ROI even more.
That said, before you put away your paint cans and Pinterest boards, here are four of the most to-be-expected wet bar design trends for 2020 to 2021.
Open shelving. Open shelving has been a growing trend in modern kitchens and so it only makes sense for it to begin trending in wet bar designs for 2021. Open shelving for wet bars helps to create that classic bar look but with a sleeker style because it's a wet bar with your own interior design touches. Open shelving also gives you a way to show off your beautiful wine glasses and bottles.
Bold colors. Another growing kitchen trend that's making its way into wet bar designs is the use of bold colors. Homeowners are increasingly moving away from neutral color palettes like white, brown, and black and moving toward bold, chic colors like navy blue, emerald green, and soft olive. Consider mixing these bold colors with artistic touches like patterned wallpaper, tiles, or large pieces of art for a truly fun entertainment space.
Maximalist minimalism. Maximalist minimalism combines the clean lines of minimalism with the bold colors of maximalism so you get the best of both worlds. For instance, painting the backdrop of your wet bar's shelving with an emerald green color while using large wall art that's simple or geometric helps to balance out both styles so you get a visually interesting space without the headache.
Switched-up countertops. Many homeowners will choose a wet bar design that resembles their upstairs kitchen in order to continue to look of uniformity from upstairs to downstairs. But just because you want to continue your style throughout the house doesn't mean your basement wet bar design needs to look exactly like your kitchen. A great way you can set your wet bar apart is by setting up a different countertop. Many homeowners are choosing to install butcher block, stainless steel, or concrete counter options in their wet bar for a cool, industrial look.
Ready to get started with your own basement wet bar design? ElkStone Basements is the basement remodeling company you need to get the wet bar design you've been dreaming of. To learn more about our basement upgrades and finishing projects, contact ElkStone Basements today.