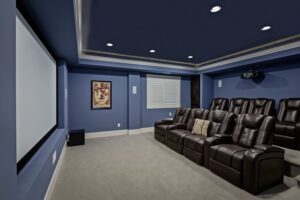 Millions of American homes have a basement that is either underutilized or simply used as a storage space. With theater rooms becoming more and more popular, turning your basement into a relaxation space where you can have lots of fun makes sense. Read on to learn some of the tips that you should consider before taking the plunge.
Take Care of the Acoustics
One of the factors that separate a home theatre from other spaces is the acoustics. About 50% of all homes in the U.S. are more than 40 years old and most of the basements in these homes have terrible acoustics. To improve the sound quality of your basement home theatre, you'll need your basement remodeling company to provide you with the necessary solutions to improve the sound quality. You can do this by adding insulation to both the ceiling and walls, which essentially creates a sound buffer.
Don't Forget About Lighting
It's a good idea to consult with your basement remodeling company to determine the best course of action for your basement lighting for your home theatre. The kind of lighting you end up choosing is entirely up to you and the nature of the basement remodel you are trying to achieve. It will be helpful to consider a few lighting ideas before you opt for a final solution. For example, a basement that will only be used for playing video games and watching movies needs dim and soft lights. On the other hand, one that will be used for more purposes, such as a bar and a rec room, may require more lighting. If you are going for a multi-purpose home theatre, installing dimmable lights will be a great investment.
Grab Comfortable Seats
Aside from lighting and acoustics, seats are perhaps the most important aspect of a basement theatre. The seats you chose for the home theatre have to be very comfortable. After all, this space is one of the few family rooms where relaxation and comfort are the most important considerations. Once you have obtained the right kind of seats, you want to ensure that everyone has a great view of the screen by installing your seats just the right distance away. You can do this by creating a U-shaped stadium-style seating with recliners.
Transforming your home's finished basement into a home theatre the entire family can enjoy is a great way to have more fun with your home. To learn more about how you can remodel your home's basement into the theatre of your dreams, contact ElkStone Homes today.