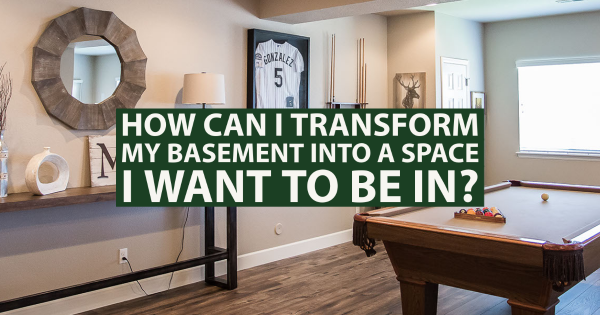 You need more space, there's no doubt about it. With homeschooling and working from home during the pandemic, the walls can feel like they're closing in. But you have space in your basement, and it's waiting for you to renovate it into something your whole family can use. All you have to do is pick a design for your basement finishing project and you'll fall in love with your house all over again.
Whether you're going to complete a basement upgrade or an entire basement remodel, having a design plan will save time and money. The average basement finishing project costs $35,000 or $35 per square foot. If you're going to spend the money, then you'll want to get the most out of this unused part of your home. Not sure what to do with this space? Here are some design ideas to consider.
Turn Your Basement Into a Second Living Room
No one said a house couldn't have two living rooms. And since we're all spending a lot of time in our homes right now, why not create a basement family room? Remodeling your basement into a family room gives this space a purpose for the whole family. With an extra TV, couch, and comfortable throws and pillows, you'll create a space where the family can watch movies together, or the kids can play while you're working upstairs. Want to use this space for entertaining? You can always add a basement bar for gathering with friends. And if you ever decide to sell your home, you'll have added square footage, which means you'll get a bigger return on your home investment.
Turn Your Basement Into a Bedroom
If you have children or need a place for guests to stay when they visit, this kind of basement renovation will add space and privacy. Since your children are spending more time at home right now, they need space to call their own. If your children are sharing a room, a basement remodel will give them the extra space they need to spread out for school projects and learning.
Or, if you're housing guests, this kind of basement finishing project will give someone space, privacy, and the comfort they need for a good night's rest. If your basement is small and you want to maximize space, creating an alcove with built-in beds and shelves will add a cozy touch.
Home Gym Basement Finishing Project
If you and your family can't get out to the gym, then the next best thing is a home gym. A basement remodel project that focuses on a workout room will keep you tone and fit without having to leave your house. Because basements are often one large open space, they offer plenty of room for workout equipment. Rubber floor mats will protect your new floors from your workout equipment and create stations for the weight system, rowing machine, elliptical machine, or treadmill that you add in this new basement finishing project.
Kids' Playroom Basement Remodel
If your kids have filled your living room with toys, then you'll want to consider a basement finishing project that turns this space into a kids' playroom. Young kids have lots of toys to play with, and teens need a place to be alone. No matter what age your children are, having a basement remodeling plan that includes a play area can maximize this space and keep your living room toy-free. When you decide on this kind of basement upgrade, be sure to get your children's input. Because they'll be spending time in this space, having the right look and feel will be important. Otherwise, they'll end up back in the living room again.
When you decide to renovate your basement, consider one of the plans above. No matter what you decide to do with this space, get your whole family involved to make sure you have the right fit for everyone. Upgrading or remodeling your basement gives you more space when you need it. And, when you decide to sell your home, you'll get a good return on this investment.