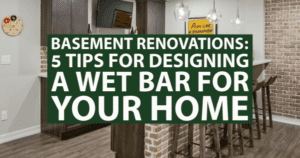 If you are thinking of renovating your basement, a wet bar is a great idea. You can carve out a retreat within your home where you and your friends can unwind with a few cold drinks.
A basement bar can also boost the value of your home more than most remodeling projects. But before you start the project, here are a few tips to help with the process.
1. Take Time to Plan
It is essential to evaluate the suitability of the basement for a wet bar before you start renovations. One of the biggest obstacles you may face is the size and orientation of the room.
A wet bar may seem small, but it requires shelving, which can take a considerable amount of space. But despite space limitations, there may be room to make modifications to suit your needs. For example, instead of a walk-behind bar counter, you can opt for a walk-up counter to economize on space.
2. Consider How You'll Use the Space
You have many different options you can choose from for your new basement bar. The bar can have a stainless steel finish for a modern style. You could also choose between wooden, marble, or granite materials.
To avoid regrets, consider how you will be using the new wet bar. Do you want to display the bottles, or would you rather store them away? If you intend to stock up on wine, you need to ensure you have adequate shelving for storage.
3. Factor in the Existing Plumbing
A wet bar means you'll have to install a sink with running water. Fortunately, many basements have a plumbing connection nearby that you can extend into the room.
Since projects that involve plumbing can be costly, you'll want to factor in the location of the existing plumbing in your design. You can save time and money by placing the bar and sink closer to the existing piping.
4. Understand your Lighting Needs
Lighting is an essential aspect of a basement wet bar. It not only brings out the style of the room but also sets the mood for the bar. You can use a mix of lighting fixtures to invoke the desired ambiance, from cheerful to elegant and romantic. When choosing lighting fixtures, think about the kind of lamps that will complement the design scheme.
Besides fixtures, there are other ways you can optimize the lighting and ambiance. A large mirror can improve illumination and make a small room appear larger than it is. A mirror can also add a classic touch to a modern wet bar.
5. Comfortable Seating and Entertainment
You will need some form of entertainment when you host your guests in your basement bar. You may choose to set aside an area to watch sports games or to play indoor games with friends.
You may have to opt for stools if getting space for comfortable seating is a challenge. If you have enough room, you can place several cozy couches to create a lounge area for watching sports games. Whatever you decide will determine the direction of your basement redesign project. Therefore, you should start planning early to avoid making unnecessary mistakes.
Remember, tasks like plumbing should be left to skilled professionals. Take time to understand the project as well as the relevant local building codes and regulations.