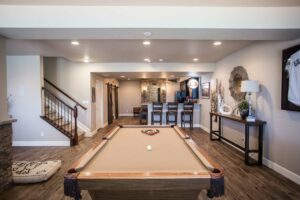 Long gone are the traditional, spooky basements where only water heaters or washer-dryer units took up residence. Finished basements are a great way to add value to your home while also creating a fun, versatile space.
But it can be challenging to determine just what to do with your basement. From home offices to basement family rooms, there are plenty of options to choose from. To help you get a better idea of what you can do during your own basement renovations, here are some of the most popular basement design trends of 2020.
Bringing the gym home. With the wellness industry still going strong, it's no wonder that home gyms are one of 2020's biggest basement renovation trends. Gym memberships can be expensive and time-consuming, especially when there's no local gym nearby. Getting your workout in outside isn't always possible, either, depending on the weather. Home gyms not only add value to your home but they're also a big investment that saves you time and money in the long run.
Making it an extension of your home. In the past, finished basements were still in the experimental stages of renovation. In 2020, homeowners feel more confident in their design choices. A growing number of homeowners are choosing to make their basement an extension of their upstairs living area complete with fireplaces, similar wall colors, and similar style. This helps the basement feel like just another room in the house and makes for a great family room.
Taking the party up a notch. Basement wet bars have been steadily making their way into the spotlight. In 2020, basement breweries are becoming a bigger hit. By setting up a bar area in your renovated basement with proper lighting and seating, you don't need to worry about waking up the kids upstairs when it's game night.
Keeping it open concept. Open concept is here to stay when it comes to home renovations, and the same is true for basement renovations. A barrier-free space allows you and your guests to pass freely from one area in your basement to another. The standard American home is nearly 2,500 square feet. Open concept basement designs, in particular, take advantage of the large amount of space while creating a sense of unity.
Ready to get started with your own basement renovations? ElkStone Homes is a basement remodeling company that can transform your bare-bones basement into the basement of your dreams. For more information on basement renovations and design ideas, contact ElkStone Homes today.