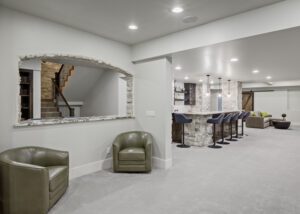 Basement remodeling can turn an unused basement space into a business prospect. If you've been thinking of transforming your basement into a potential rental unit to supplement your income, you're not alone. American homeowners spent nearly $14 billion on home improvements in just 2017, and many of those home improvement projects involved basement remodeling.
Of course, before you decide to rent out your basement space, you'll first need to look into the legal issues within your state and county to ensure that you can rent out your basement in the first place. Any potential problems with health and safety such as mold or radon will need to be addressed first.
That being said, if you're given the go-ahead to transform your basement into a living space for a potential tenant, there are a few key choices you'll want to make. Here's what you need to turn your basement into a rental.
Inspect plumbing and wiring
Turning your basement into a rental unit isn't the same as finishing your basement. You need to make sure that you add plumbing and wiring to your basement to ensure your future tenant has running water and working electrical.
Check your existing systems to see if you need to make any upgrades or expansions. If you do need to fix or add to your plumbing and wiring, you'll need a permit to do the work before you get going on it.
Know what you plan to include
You know that you need to include a kitchen and bathroom in your basement remodel to really make it a rental unit. But it's a good idea to consider what other features you plan to include in your unit. For instance, if you want to give your future tenant their own washer and dryer, it's in your best interest to ensure there's a hookup before they move in.
Call in the professionals
It can be tricky to transform a basement into a rental unit on your own. That's where professional basement remodelers come in. With a basement remodeling service on your side, you don't need to sweat over the intricacies of your project. You can feel confident knowing that your renovation is getting done right.
Interested in basement remodeling? ElkStone Homes has the basement remodeling services you need whether you're interested in turning your basement into a rental unit, wet bar, or basement family room. To learn more about our Denver basement renovations, contact ElkStone Homes today.