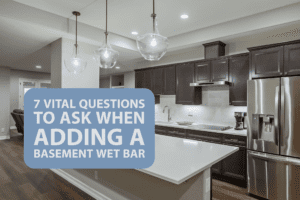 Most American households regard their basements as a non-essential section of the home. However, your basement doesn't have to remain a dull storage space. Basement remodeling or finishing can help create attractive living spaces for your family and friends. Real estate experts indicate that finishing your basement may provide you with an ROI of 77.6%.
Basement wet bars are among the most popular home improvement projects. With plumbing lines already in place, you can choose to add an icemaker, refrigerator, dishwasher, and other appliances, as your space and budget permit.
Here are five questions to guide you on the right design for your basement wet bars.
1. How Much Space Do You Need?
You may need to determine the space you wish to allocate to the wet bar. Do you envision your family and friends gathered around on stools, or is it a staging area for drinks and snacks to be consumed in other parts of the basement? Determining the functionality of the basement wet bars can help you accurately decide the countertop size and cabinetry to use.
2. LED, Fluorescent, or Incandescent?
A key feature of any basement remodels is the lighting. Your light features may need to be subdued but with brighter track lights over the workbench. Pendant lighting is a popular option, providing homeowners with a great deal of flexibility on style, height, and shade types. Recessed lighting, LED strips, or fluorescent lights can help create ambiance on the work surfaces, shelves, and the general area around the bar.
3. What Flooring Types Work Best With Basement Wet Bars?
You may need to choose durable flooring options for your wet bar. Given the proximity of basement wet bars to sinks and the likelihood of foods and beverages served to spill, you may need easy-to-clean, water-proof flooring. You can consider sealed wooden floors, stone, or expensive tiles that would easily blend with your home's aesthetics.
4. Do You Need a Full-sized Refrigerator?
Most basement wet bars incorporate a refrigeration unit of some kind in the overall design. A mini-refrigerator is an excellent option to hold beverages and food supplies if you are short of space. However, if you do a lot of entertainment or your family spends more time in the basement, it is advisable to get a full-sized refrigerator.
5. What About Seating?
There are many different options to choose from when it comes to adding seating around the wet bar. If you have a larger basement, you may opt for built-in sofas or other furniture that your family and friends can enjoy while hanging out in the space. You can also choose to add bar stools, which are small and easy to install.
6. Are There Electrical Considerations?
Adding electrical outlets near the wet bar is important, especially if you opt for pendant lighting or other fixtures that would require direct power access. You may need to extend a few feet of wire from existing electrical boxes and hang them under your countertop area or above the cabinets. It's also crucial to include sufficient power capabilities for refrigerators and dishwashers on top of charging electronic devices like smartphones and tablets.
7. What Other Features Do You Wish to Include?
A basement remodeling company may recommend a wide range of storage, sitting, and entertainment features that can accentuate your space. You can opt for ready-made cabinetry and bar stools as a starting point for your basement renovation. The storage options should be durable with easy-to-clean surfaces. Open shelving can help add interest and aesthetics to the design. The seating should be comfortable and should blend well with the overall basement wet bar design. For a true sports bar feel, you may need to incorporate a TV to catch all the action. Consider the placement of the television to maximize visibility while on the wet bar stools.
Basement wet bars are among the most popular upgrades homeowners can carry out. The questions above can guide you in achieving your vision for the space. You can contact ElkStone Inc. to help transform your Colorado basement into a fantastic wet bar that your family can enjoy. Contact us today for a free, no-obligation estimate.