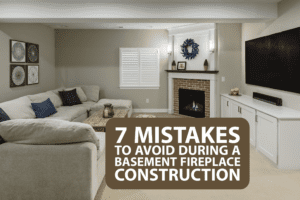 There's arguably nothing more comforting than curling up beside the crackling fireplace hearth on cold evenings. A fireplace construction in your basement may not only enhance the room's aesthetics but also increase the value of your home considerably.
While fireplaces are excellent additions to any home, a proper installation is necessary to avoid any liabilities at a later stage. Here are costly errors that you may need to watch out for during your fireplace construction.
1. Incorrect Sizing
Sizing may be one of the easiest pitfalls to avoid yet still catches a majority of homeowners out. Fireplace construction is all about planning and details. You may need to be 100% certain that you've chosen the correct unit that fits within your basement space. Too small a hearth may require you to build around it, while you may have to return the massive fireboxes to the manufacturer. To avoid sizing issues with pre-made fireboxes, you may opt for custom fireplace construction from experienced contractors.
2. Not Knowing Your Fireplace
Over 50% of the houses in the market are over 40 years old. Chances are that your home already has an outdated fireplace installation in place. Whether replacing your old basement hearth or opting for a new fireplace construction, you may need to learn about its construction from the flue down to the chimney and burners. You may need to watch out for fireplaces that don't fit central to the chimney breast. There should also be enough clearance between the vent pipe and wood framing. Structural complexities may require a professional installation by licensed fireplace companies.
3. Lack of a Proper Air Source
It is critical to have a permanent and properly-size air intake for your fireplace unit. You may need correct ducting to ensure that your fire receives the combustion air it needs to prevent smoke and carbon monoxide build-up. If you have trouble designing, you can consult professional designers from fireplace companies in Colorado Springs.
4. Insufficient Clearances
The room where the construction takes place should be adequately clear of all obstructions such as stored goods or furniture. The clearance area around the hearth must also be safe for operation and maintenance activities, along with allowing access to gas supply lines, electrical conduits, and other ventilation equipment in the future.
5. Placing the Hearth in a Wet Location
A fireplace installation must take place on a suitable combustible base that can support the weight of the unit and its contents. Building it near water pipes or on wet soil may result in severe damage, while fireplaces installed over concrete subfloors are susceptible to cracking. To ensure that these errors don't occur, you may work with professional contractors.
6. Improper Insulation Around the Fireplace
There is an increasing interest in better energy efficiency for modern homes as a whole. It may require proper insulation measures that ensure outdoor temperatures have a minimal effect on your indoor environment. Most gas and wood-burning fireplaces have a standoff system that can result in the hearth not extending right up to your glass fireplace door. Gaps around your fireplace opening can lead to smoke hazards, or worse, become a fire hazard. Expert installers can preemptively spot the error, placing mortar or steel abutment to correctly size it.
7. Not Having a Professional Installation for Your Gas Fire Insert
Most states require a valid permit and professional installation for all gas-related works. A fireplace construction that uses natural gas as the fuel source requires a particular two-tube set-up to function properly. You may need to hire fireplace experts with certifications to work on gas lines.
A fireplace construction in your basement is a fairly complex project. You can easily avoid the errors indicated above by hiring licensed fireplace installation companies to complete your basement renovation. To schedule a free consultation to discuss your new hearth ideas, reach out to ElkStone.