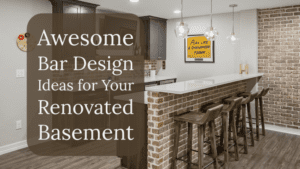 Most basements are left unused and unfinished, while some are used to store everyone's unwanted junk. If you come to think of it, this is a waste of space that can be transformed into an awesome extra room. It's always best to finish or remodel your basement. This project alone costs 80% less than buying a new home. Also, transforming your basement will increase the value of your home. Here are some awesome basement bar designs.
The Man Cave
This is a must-have for the man of the house. Remodel your basement into a bar that has a man cave style. The bar can be set up in a corner; then, you add a sitting space with a big-screen television. You can also throw in some gaming space, a pool table, or a dealer's table. Choose rest the style and décor with what suits you best.
Vintage Look
If you are fascinated by vintage, then you have the opportunity to remodel your basement into a bar that has a vintage look. This is one of the best basement bar designs. It can be inspired by old cowboy movies or old English bars. You can have bar stools and rustic tables for that cowboy saloon appeal or have plush stools and low-hanging lights to give it an old English feel.
Stone Look
This is one of the basement bar designs you can go for. If you are a fan of stonework, then this design is for you. The bar countertop can be built using stone, giving your bar that outdoorsy feeling. Adding a little greenery to the countertop also enhances the whole outdoor look.
The Farmhouse Look
Imagine a farmhouse theme for your remodeled basement bar. To achieve this look, you can install a wooden ceiling and floor and get some wheel-spoke wall cabinet design for storing liquor and the eye-catcher, a beer-cask tap.
Wooden Look
Wood will never go out of fashion, so why not give your remodeled basement bar a wooden theme? Imagine deep redwood for your bar stools and wall cabinet, giving your bar a simple and clean design. You can even add wood paneling to the walls and wooden framed memorabilia to complete the woody look.
To have the best basement bar design, make sure you add the right lighting that goes hand-in-hand with your selected theme.