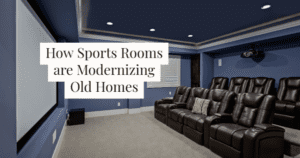 Most of the houses for sale have a dull and empty basement, a space that can become one of the best parts of the property. Transforming your basement into a fun place rather than a simple storage room has a lot of benefits, especially for older houses.
One of the best projects for a basement is turning it into a sports room, a place where you can enjoy the company of friends and family while watching a game. Moreover, here we present what we think are the advantages of having a sports room in your house.
Adds uniqueness to your property
Having a recreational room for your family and friends is common in modern houses, and having a modern sports room in your basement enhances the look of your vintage home. Not only will you surprise your visitors by taking them to a fantastic sports room, but you'll have a special place to relax.
Nevertheless, if you're planning to sell your old property, a sports room can make your offer more appealing. More than half of the houses on the market are over 40 years old. Adding a sports room to an old property makes it stand out from the rest, and it returns your investment in the long run.
Choosing the right theme
The options for basement remodeling are endless, but we highly suggest you go for a theme and work around it. Choose your favorite sport or the sports team of your preference and fill your basement with decorations and furniture related to that sport.
However, if your basement has a lot of space, you can consider adding weights and gym equipment to it. It's common to see sports rooms that are gym studios, as both themes have to do with physical activity.
Ventilation and Waterproofing
If your property is more than forty years old, the odds are that the basement is filled with humidity and without ventilation. Waterproof paint can solve any crack in your basement walls and avoid future leaks. Ventilation is also a crucial matter for a basement, as you need to pump some fresh air into the basement and avoid feeling suffocated.
Sports rooms give a second air to those old-fashioned houses. If you want to transform your old property and add a modern aesthetic to it, consider building a sports room in your basement.