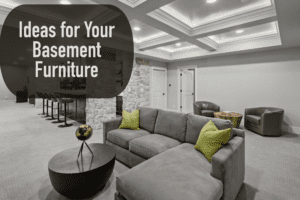 According to the National Association of Home Builders, 68% of homes in the U.S. have basements. For those that do have them, it's a great idea to turn them into usable living spaces, complete with decorations and furniture. To help you do that, here are some excellent basement furniture ideas.
1. Get a Cozy Sectional Couch
Imagine a deep-seated sectional couch you can sink into after a hard day. A sectional will perfectly suit a basement family room renovation as it creates a relaxed atmosphere while accommodating more people.
2. Additional Storage and Small Furniture
The best part of having small furniture pieces is how light and airy they make a room feel. Also, use additional storage pieces to help organize all of your belongings. You do not want your furnished basement to feel cluttered. The more storage there is, the more functionality you can get out of the room. Kids can store their toys and arts and crafts in the basement, so it doubles as a children's playroom. Or you could create a mini library, a collector's arcade, etc.
3. A Large Farmhouse Table
Where else will the family gather for an exciting night of board games? Many people love to turn their basements into an entertainment center so you will need the furniture to accommodate all that fun. It's best to go with a large table, so you are not aching for space. Try getting a rustic farmhouse table that can one day become a family heirloom full of rich memories.
4. Accent Chairs
Accent chairs will give your basement family room renovation a more sophisticated look. You can accentuate them by placing them on a nice rug to create an elegant separate seating space great for reading or relaxing with a drink.
A remodeled basement is a great way to add beautiful furniture and storage spaces that you might not have room for otherwise. You don't have to take on a basement family room renovation alone. By hiring a professional remodeler, you can complete a project safely within code and benefit from advice regarding design, budget, and accessories. If you need any help with your basement remodel, contact us today.