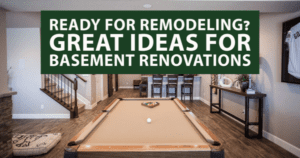 Did you know that the average basement finish can have up to a 70% return on investment? Are you thinking of undergoing a basement finish, but not sure if it is worth it? Although finishing a basement may seem both expensive and time-consuming, with the right basement company you can add space to your home with a headache-free project that will give you a new room to enjoy for years to come. Below are some great ideas for with a professional basement finishing company.
Family Rooms
Family rooms are great for both entertaining guests and relaxing with your loved ones. The best thing about basement finishing is that you can choose how you want to recreate your new space, whether it's a comfy, relaxing room with a home theatre, or a more game-themed rec room with a pool or air hockey table. Want to add an electric fireplace for some extra warmth and coziness? The choice is yours. The options are endless when you choose a basement finishing company with experience in creating customized family rooms, fireplace design and quality construction.
Basement Wet Bar
Looking for a more adult-friendly way to spruce up your basement? How about a basement wet bar where you can entertain your friends and family? Basement wet bars are some of the most common basement upgrades because they are a great way to add a unique space to your home. Your local basement finishing company can help with your wet bar design, offering anything from an island wet bar to a peninsula wet bar and beyond. Mix and pour the drinks behind your new wet bar while your guests soak in the atmosphere of your new sophisticated and fun space. Add a jukebox, TVs, or even a new fireplace to complete the look of your basement remodel.
Specialty Rooms
Not sure exactly what you want your basement finish to be? You can still add space to your home by creating a basement finishing project that is a blank canvas for whatever you want it to be. Enjoy crafting, knitting, or sewing? Then transform your basement into a place to indulge your favorite hobby. Like working out, but have no space for the equipment? Turn your basement into a home gym where you can exercise in the comfort of your own home. But why choose just one? A professional basement finishing company can help you transform your space into a multi-functional room or rooms for everyone to enjoy.
While finishing a basement may seem expensive, it is actually a great investment in your home's future. Not only can it add space to your home, but it can also become a new and exciting room for you and your family to enjoy. From family and rec rooms to a basement wet bar, your local basement finishing company has all the options available to transform your basement into an amazing new space.