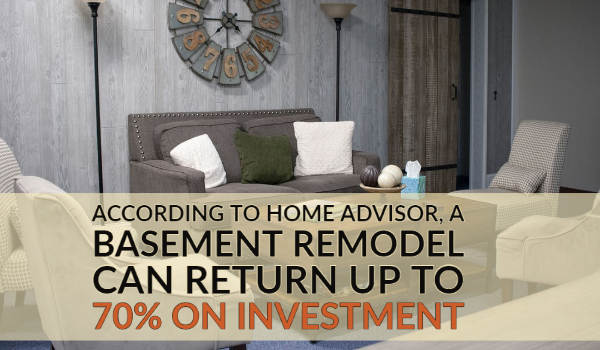 Are you tired of walking down the stairs to your basement, flipping on the light and seeing a dark, empty space? How about piles and piles of random stuff, strewn about?
If you're tired of seeing a cluttered, messy basement, it's time to do something about it. These days there are all kinds of basement renovations you can do to really transform your basement into a wonderful, inviting space. Not only that but if you're looking to sell your home or prepare it for selling, the average basement remodel can have up to a 70% return on investment (ROI)
If you're looking to pull off the perfect basement renovation, here are some easy ways you can make it happen.
Plan Things Out
Before you do anything as far as basement renovations go, you're going to need a plan. The best plans for a basement renovation or basement redesign are those that have been discussed between a homeowner and experienced contractors. By talking things out and sketching ideas and really thinking about what you'd like to do versus what needs to be done, you'll come up with a plan that works on all levels.
Add more bedrooms
One of the most common things people are looking to do with basement renovations is to increase the living space in their house. Believe it or not, your basement may be big enough that you can add an extra bedroom or two, creating a cool bedroom space for your kids or extra space if you're hosting a family get-together. If you're set on putting in more bedrooms, it's important to remember that any bedroom must have at least one closet and two forms of egress (exit points).
Adding Recreation Space
If you're tired of looking at a boring, unused space in your basement, what better way to transform it than by turning into a lounging area or a recreation area.
Want to turn your basement into a man-cave? Think about adding a wet bar, some flat-screen TVs and some couches. Want to turn it into a play area for your family? Add carpeted space for the kids to play with their toys and don't be afraid to liven things up with a pool table or a gaming table or a pinball machine. If you're a movie fan, you can even turn your basement into your own home theater where you can host movie nights for family and friends. You can even keep things simple and renovate to turn that space into a basement family room where family and friends can sit and relax.
Add more bathrooms
If you've got a big family and a small house, chances are good that there's a fair amount of fighting going on for a time in the bathroom. For many homeowners, there's nothing worse than sharing one bathroom with four or five people and getting two minutes of a hot shower or barely 30 seconds to do your business. Keep in mind that if you're going to add bathrooms, you're likely going to need some plumbing work done in your basement and drywall might need to be put up to create bathroom dividers. But in the long-term, having extra bathroom space can be invaluable for a variety of reasons.
Easy Does It
It's already been established that basement renovations can have high ROIs and it's a big reason why basement remodeling projects are among the most popular undertaken by homeowners. Think about this: If you spend about $1,000 on a basement renovation, it increases the value of your property by about $700, so if you really put some effort into a complete renovation, it could really raise your property values and make it enticing to potential buyers if you're looking to sell it.
The flip side of that is if you want to keep things simple, you don't have to do a whole lot to your basement, especially if you're preparing to sell your home. By adding a decent source of lighting, perhaps a heat source and at decent flooring, that's usually enough for many prospective buyers and who knows, they might take what you've done and do some remodeling of their own.