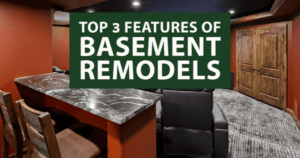 The current average cost for a basic basement renovation is about $35.000, equal to about $35 per square foot. But before you start thinking that might be too expensive, consider the benefits of basement renovations. Choosing the right basement remodeling company guarantees a fast and professional remodel that is a great investment for years to come. Keep reading to learn about some great features to include in your basement finishing project.
Basement Wet Bar
Consider your basement remodel as a blank canvas for your next big design idea. Always wanted a wet bar? With a wet bar design from your local basement remodeling company, you can have the bar of your dreams — from a peninsula wet bar to an island wet bar. Home improvement has never been easier than designing a new wet bar with basement bar plans from your local basement finishing company. Imagine the fun you'll have pouring drinks and sipping comfortably with your friends and family in your new basement bar space.
Fireplace Hearth
Looking for a basement redesign that is more functional and family-friendly? Then consider fireplace construction as one of your basement upgrades. A fireplace hearth and mantel adds both warmth and style to your basement remodel, while expert fireplace design ensures a customized fireplace hearth to accentuate your decor. Basement family rooms wouldn't be complete without an electric fireplace to add coziness and atmosphere to your family gatherings.
Home Theatre
One of the most popular basement upgrades is a home theatre. Choose your style from an open home theatre or an enclosed custom home theater that will be the centerpiece of your basement family room. Your local basement finishing company can help you with the design process from start to finish before installing the home theatre set up of your dreams. Have a projection screen to hang on the wall, or an LCD TV you want to install in a custom-built niche? The options are endless when you choose a basement finishing company that has expertise in both building and design. Entertain your friends and family with style in a custom-designed media room that makes any movie night special.
Basement renovations may seem expensive and overwhelming, but when you choose a professional local basement finishing company, your home improvement project is easily transformed into the room of your dreams. With upgrades that include a custom fireplace hearth, fireplace construction and design, wet bar design, and a custom-built home theatre, you can turn your basement remodeling dream into reality with your local basement finishing company.