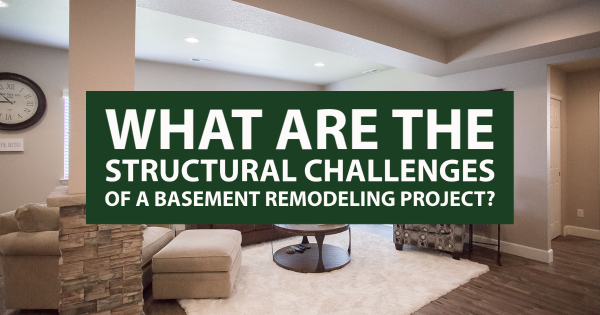 Basements can be rented out for 50% to 70% of the monthly mortgage cost if it has provisions for multi-tenant use. But whether you want to turn it into a rental or you want to customize it for yourself, basement remodeling can be challenging and requires a professional basement finishing company.
During renovations, you'll have to deal with structural issues and other problems like moisture accumulation. In this article, we'll consider some of the common basement finishing challenges and how to address them.
Cracks in the Foundation
The main challenge with cracks is that, when they're caused by foundation issues, they can continue to expand due to the shifting soil under the building. If you notice that the door and windows don't close completely, your home's foundation may be weakening. Remember, organizing an inspection before basement remodeling will minimize the risk of structural problems in the future.
When renovating parts of your home, it is advisable to start by checking for cracks on the foundation. You can consult basement finishing companies about repairing the floor before the remodeling project.
Sunlight and Lighting Fixtures
One of the challenges of a basement remodeling project is lighting. You can boost the illumination by incorporating different types of light fixtures. You may add a window if the basement is above ground to take advantage of sunlight.
You can also boost illumination by Incorporating a bright palette for the interior. White and neutral colors can make the room feel relaxed and airy. That's why you ought to consider the layout before consulting basement finishing companies for renovations.
Low Ceiling Height
A low ceiling height can complicate your basement finishing project. The interior is bound to be dark and gloomy, thanks to the numerous shadows cast across the room. Most building codes stipulate a minimum height of seven feet for livable space.
If lighting is the most crucial challenge, consider changing the color of the ceiling. White or neutrals that reflect light can liven a bland interior. It is advisable to avoid wall lamps as they cast shadows that diminish the illumination.
Insulation for the Wall and Floors
The basement ought to have suitable insulation for your climate and conforms to local building codes. Insulation prevents the buildup of moisture that may trigger mold growth, which could damage parts of your property.
Basement finishing companies can guide you on the type of material suitable for your home. Most local codes regulation requires insulation of at least R-8 for the floor. Some concrete floors may not need insulation depending on the area of exposure, so prior evaluation is essential.
Ventilation and Energy Efficiency
Ventilation is not only necessary for comfort, but it also facilitates the expulsion of excess moisture. The type of materials you use can facilitate airflow by capturing vapor and reducing humidity. The floor must be airtight to prevent water from escaping into your home.
Bottom-Line
The adjustments will depend on the type of renovation. Whether you plan to add a kitchen or wet bar, an evaluation is necessary to ensure the project's success. It is always advisable to consult a professional from a basement finishing company.