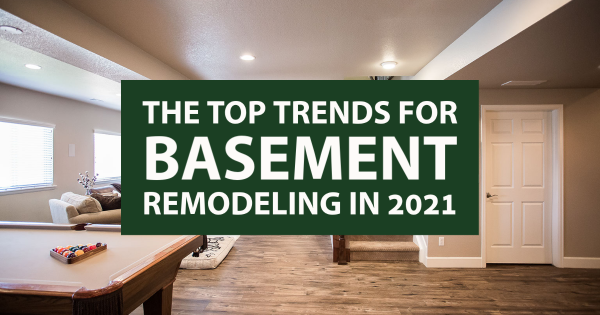 The lockdown has forced homeowners to turn their attention to their living space. It is one of the reasons why basement renovations are becoming popular. That's because they are more cost-effective than moving to a larger house. A basic renovation is approximately $35 per foot, which translates to $35,000. That means that you are able to turn a space that was probably not being used into something more valuable, like a gaming room, home theater, bar, and much more. In this article, we'll explore the latest trends to help you find ideas that are of great value to your home.
Open Spaces for Socialization
One of the hot basement remodeling trends is open spaces to encourage movement. Walling off parts of the room can make the basement feel small and congested. You can create zones by creatively using furniture, carpets, and rugs.
The open concept can also optimize the use of natural light to improve illumination. The design can maximize the space without taking a square foot of space for partitions. It also cuts down on materials and the expense of redesigning the layout to accommodate walls.
TV and Entertainment Hangout Area
Another advantage of the open concept is that it facilitates socialization. As a result, homeowners are using the layout for TV and entertainment areas over the traditional home theater. The design is more informal than a cinema room and has decor and furnishings similar to a living room.
The open concept TV room may feature multiple screens for watching sports games on weekends with friends. Variations of the concept may include a basement bar or kitchenette. Enthusiasts tend to favor the immersive feel of a theater. But fans prefer the TV room idea as it encourages camaraderie and interactions.
Furnished Guest Suites
You can turn the basement into an extra room for your guests, complete with the latest modern furnishings. It can serve as a room for a senior looking for assisted living options. The idea has become more popular as retirees seek to age in place.
With guest rooms, the renovation can vary in complexity. The most basic involves adding a bathroom and a bedroom. Depending on your budget, you can include a basement bar or a lounge area. While such additions may be costly, they can increase the value of your home.
Home Spa and Gym
Another basement finishing trend involves incorporating a gym and a spa into your home. Restrictions on movement in recent months are compelling homeowners to start a gym to promote their health.
One advantage of turning your basement into a gym is that you can add equipment according to your needs. In other words, you start with a few workout machines. Whenever you are ready, you can add more equipment to the open space. Remember, chances are, once you begin your gym routine at home, it's easier for other family members to join in and also enjoy the health benefits of exercising.
Mini-Auditorium for the Family
If your family loves taking part in group activities and music, you should consider a mini-auditorium. It can be a place for karaoke or for playing musical instruments. Soundproofing is an essential aspect of this basement upgrade.
Whether you are building a basement bar or a home theater, you can find a concept that works for your home. For the best results, take time to work on the layout and design before commencing the renovation project.