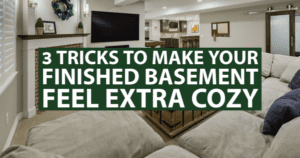 Chilly weather is here, and many of us are already curling up on our couches with a good mug of hot chocolate. But getting cozy is more than just about pulling on sweatpants and streaming your favorite show. Getting cozy is also about creating the right ambiance, which can be tricky when you're working with a finished basement that's underground by design.
Fortunately, there are a few tricks you can use from home stagers to help you turn up the cozy factor in your finished basement:
Use lamps and not just overhead lighting. As any basement finishing company will tell you, overhead lighting is essential for brightening up a finished basement. Improper lighting in a basement can leave you feeling like you're in a cave, especially considering 50% of houses on the market today are over 40 years old. However, if you're looking to make things cozier and more intimate, it's a good idea to use lamps alongside your overhead lighting. Task lighting, especially with warm bulbs, helps to create a relaxing mood at any time of the day.
Layer the floor with rugs. Whether you choose to use hardwood flooring or carpeting in your finished basement, you can't go wrong with adding rugs. Rugs, especially soft cushy ones, help to add texture and dimension to the room. When they're furry and soft, rugs can give people extra comfort because they know they'll be able to step onto something soft. Rugs can also help to buffer the cold that can sometimes come with hardwood floors.
Dress up your fireplace. If your finished basement has a fireplace design, don't just let it go undecorated. That's a piece of potential right there waiting for you. Set up fun features on your mantel such as wooden candlesticks, fall-themed artwork or photos, dried wheat and seasonal flowers, and pumpkins. These seasonal touches help to bring the best of the outdoors indoors without losing any warmth.
If you're looking to transform your basement into a cozy escape with a new fireplace or new wet bar this season, look no further than the basement finishing company of ElkStone Homes. ElkStone Homes offers different types of fireplace from traditional to contemporary to help turn up the cozy factor in your finished basement. We also offer complete basement finishing services so you can transform your basement from blah to tah-dah! To learn more about our basement finishing services, contact ElkStone Homes today.