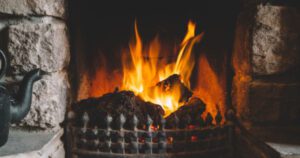 Did you know that the earliest known building code was a part of the Code of Hammurabi in 1772 BC?
Since then, our building codes have only grown in number and application. For example, building codes applying to fireplaces and stoves are especially critical since these involve flames that can cause a house to catch fire if not constructed properly. That's why it's especially important to choose fireplace companies that know what they're doing.
Before you start looking for fireplace companies Colorado Springs trusts, you'll need to settle on just what kind of fireplace is right for you. Read on to learn more!
Wood Burning Fireplace
Open-faced fireplaces — like the ones you see on Christmas cards — are probably the most popular, and the best known. Between the open flames, the flying sparks, and the charred logs crackling under the flames, open fireplaces are highly romanticized.
According to some open fireplace owners, however, these beautiful centerpieces might not be worth the necessary maintenance. They can be a lot of work to light and keep burning — not to mention to clean. It's also not unusual for traditional fireplaces to fail to burn correctly.
Perhaps the worst aspect of traditional open-faced fireplaces is that, at the end of the day, they don't produce that much heat. Most of the heat generated by a fireplace is sucked directly up the chimney, effectively wasted in the cold air outside.
However, for their warm, distinctive appearance, open-faced fireplaces can be worth all the hassle and inefficiency they involve — but only if you're willing to put in the time and effort.
Gas Fireplace
Possibly the most wonderful thing about gas fireplaces is not their often gorgeous design, but their cleanliness. Unlike traditional stoves and fireplaces, gas fireplaces don't involve any necessary clean up after use. Because they don't require a chimney, one can be installed virtually anywhere.
Unlike traditional fireplaces, gas fireplaces offer "turn on, turn off" functionality, providing instant heat when you power them up. That means there's no need to spend an hour with a stubborn fire, trying to get it to take off. Gas fireplaces are also available in automatic, thermostat-controlled versions.
The only real downside to gas fireplaces is their inauthentic appearance. Yes, the flames are very real, but for some, watching gas-fueled fire being spurted up out of fake logs is deeply unsatisfying.
Electric Fireplaces
Much like a toaster or refrigerator, an electric fireplace is often considered to be another appliance. Since it doesn't factually produce flames, its lifespan is practically infinite, and it's possibly the safest option for homeowners. It can also be moved from one room to another quite easily — all you need to operate it is an electrical outlet.
The best thing about electric fireplaces might be that there's no need to worry about either toxic fumes or fire hazards. The only real downsides are that electric fireplaces are very expensive when you depend on them for heat during the winter and that if the power goes out, so does your fireplace.
Pellet Stoves
Pellet stoves are reminiscent of a traditional fireplace because of their authentic, open flame. In this case, however, you can watch the fire safely from the other side of glass panes.
A major plus for pellet stoves is that, unlike logs and other fuels, the pellets used to fuel fires are a truly renewable energy source. Pellet stoves are also very low maintenance — you can even pour 50 pounds of pellets into some models, and leave them alone to burn for an entire 24-48 hours afterward.
Clean-burning, efficient wood pellets and removable ash pans make cleanup a breeze. Pellet stoves can also be installed just about anywhere a normal appliance can be — all you need is an exposed wall.
The one downside to pellet stoves is the pellets themselves. While firewood is usually low cost, in pellet form, fueling the fire can be fairly expensive. Massive bags of pellets can also be a pain to move and store.
Conclusion
Good fireplace companies can add an entirely new feel to a home, just by installing a beautiful, warming fireplace. Connect with fireplace companies now to learn even more about your options for installing a fireplace in your home.