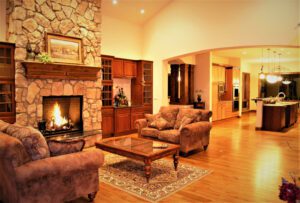 Right now, the average cost of basic basement renovations is $55,000, or about $55 per square foot.
That may sound like a lot until you consider that remodeling your basement is one of the best ways to increase the value — not to mention comfort — of your home.
Remodeling a basement is a big investment, so before you find a basement remodeling company, read on to learn the top five benefits of basement remodeling, to decide if it's right for you.
1. Increase Your Home's Energy Efficiency
This isn't often thought of by people considering basement remodeling, but it's a very real benefit. Because the basement remodeling company will install drywall, insulation, and additional materials that keep the air inside, this proper insulation will keep out drafts and reduce the amount of warm or cold air that normally escapes from a basement. You may see a dramatic decrease in your energy bill after finishing your basement.
2. Increases Your Home's Resale Value
Finishing a basement increases the amount of usable square footage in your home, by adding additional rooms in your once-barren basement space. Alongside the energy efficiency perk, this benefit can dramatically increase the amount of money you can get for your house, should you ever decide to sell.
3. Offers New Options for Your Home
As noted previously, hiring a basement remodeling company to finish your basement can be an attractive decision, just because it adds a few comfortable rooms downstairs. By installing an extra bathroom and furnishing a bedroom or two, you suddenly have the option to invite houseguests over more often, giving distant relatives and old friends an excuse to come visit.
Even if all you want is a quiet, cozy office to work inside of, remodeling your basement will give you that option, and many more.
4. Generates More Interest
Houses with finished basements are especially attractive to real estate agents, as well as to potential buyers. This one factor alone could dramatically increase your chances of closing the sale quickly and getting a great price. Just one or two additional rooms in the basement can be a major selling point.
5. Remodeling Your Basement is a Good Investment
Whereas some kinds of home renovations can leave you wondering if they were really worth the cost, basement remodeling is almost always very likely to get a return on your investment. Many homeowners find that, between increased savings and property value, they can make nearly all of their money back in just a few years.