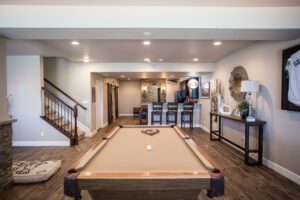 Nothing makes for a better recreational space or family room quite like a finished basement. Basement remodeling not only gives you an ROI of 70% but it also allows you to make the most of your home's square footage. However, depending on the type of layout you set out to create, you might not be adding as much value to your property as you think.
Here are three of the most common layout mistakes homeowners make when finishing a basement and what you can do to avoid them.
Poor lighting design
It's important to keep in mind during your basement remodeling project that your finished basement isn't like the first floor of your house. The lighting choices you have upstairs aren't going to have the same impact in your basement. The best way to make a finished basement brighter and more welcoming is with clever lighting design.
You'll need to install several layers of light, especially overhead with recessed lighting, to make the space feel charming and warm. If you're unsure about how to work clever lighting design into your basement remodeling project, ask your basement finishing company for a professional opinion.
Forgetting about storage
Basements are commonly used for storage. When you decide to finish your basement to use that space for other things, you'll need to figure out where you're going to put those storage items. Don't assume you can declutter your way out of storing items.
Consider donating one of the walls in your basement to storage. You can either use wall-to-wall shelving or a storage rack system. Keep your items stored away in easy-to-see boxes and bins so you can access them when you need them.
Closing off the space
Finished basements often create an enormous space. To help bring order to the space, many homeowners will choose to divide their basements into different closed-off ones. For instance, you might put up walls to create a home gym, a TV room, or a play area for the kids.
However, this can be an issue when it comes to temperature and airflow. It's better to keep your finished basement an open space to ensure there's fresh air and plenty of airflow. What's more, keeping the space open also makes future repairs that much easier.
If you're looking to start your basement remodeling project, ElkStone Homes has the expertise you're looking for. Our designers and contractors specialize in basement renovations and basement upgrades to help you make the most of your space. To learn more about our basement remodeling services or to schedule a consultation with us, contact ElkStone Homes today.