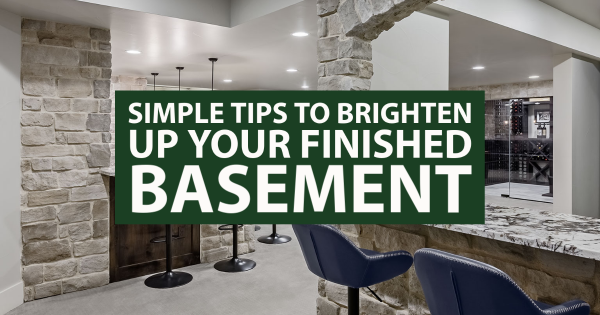 It's possible to have a bright basement with just a few easy tweaks. This is especially worthwhile after you have finished your basement renovation. After all, with the current average cost for a basic basement renovation at about $35 per square foot, you owe it to yourself to ensure the room is in the best form after the basement finishing company has left. Here are a few simple tips you can use to brighten your finished basement below.
Repaint the Walls With a Brighter Color
This is an obvious way to make your basement seem brighter. The good news is, it's a quick and easy fix. However, while bright colors are great, it's important to avoid colors that are too bright since they may be jarring to look at such as bright yellow. Instead, focus on more neutral hues such as white, light gray, or pastels.
Add Reflective Surfaces
Reflective surfaces can instantly brighten up your basement by reflecting light all around it. To start with, you could add large wall mirrors, which can also visually expand your space. You can experiment with other mirror designs, too, such as mirrored shelving. Other reflective surfaces that can brighten your basement include glossy countertops, shiny decorative vases, and metal light fixtures.
Improve the Lighting
This includes both natural and artificial lighting. Adding larger windows with white frames can be a great way to let more natural light in. This can even be done by your basement finishing company. Be sure to use sheer window coverings instead of heavy drapes that block light. When it comes to lights, recessed lights, track lights, and accent lights will really boost the brightness of your basement.
Add Light Flooring, Bright Furniture and Accessories
Generally, light wood flooring with a reflective shine can help brighten your space as well as making it feel cozier. The same goes for bright furniture, such as a yellow couch or a beige recliner. Additionally, simple accessories like bright art and carpeting can do the trick.
With these few simple tips, you can turn your finished basement into a welcoming and inviting space. Ask your basement finishing company to add some features mentioned above such as windows and flooring. Brightening up your basement not only makes it more appealing but will also increase the ROI should you ever decide to sell. Contact ElkStone Basements today for more information on how you can make your finished basement brighter.