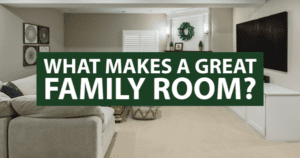 Family rooms are a great way to turn your finished basement into a place where the entire family can be together and relax, unwind, and have fun. But what exactly makes a great family room? And what can you include in your own family room to make it a place where you and the kids will all want to hang out at the end of the day?
Here are a few ways you can decorate your basement family room to make your space comfy and cozy for everyone.
A comfortable lounge area
Family rooms can be used for a wide range of things from game nights to movie nights. No matter what the activity you plan for your get-together, you want to be sure that your family room is as cozy as possible. No one likes to sit back in a hard chair, especially kids.
Make sure that you include soft and comfortable furniture like a sectional or sofa. You also want to be sure that your ottomans and side chairs are soft, too, for when you have guests over. If you want to take your family room up a notch, consider installing a modern fireplace design in your finished basement. A new fireplace can help warm up the space, literally and aesthetically.
Layered rugs
Some homeowners choose to include carpeted flooring in their finished basements while others prefer engineered hardwood to avoid the risk of floor damage in the event of flooding. In 2017 alone, Americans spent almost $14 billion on home improvements as the result of a disaster. Of course, whichever your flooring choice, make sure that you have something soft for your feet (and your kids' feet) to land on. Layering area rugs can help to keep your feet warm in your family room. They can also help to define certain spaces. For instance, if your finished basement is a large, open floor plan, your rugs can create "separate" areas such as the lounge area, the kids' play area, and the home office.
Storage space for entertainment
Family rooms need to keep their games somewhere. Whether you have a board game collection, video collection, or video game collection, make sure that you have a designated space in your finished basement to keep everything organized. You can use bookshelves, an entertainment center, cube shelves with labeled cubbies, or totes. Just make sure that you have clear labels on everything to make finding your entertainment easy.
Need help remodeling your basement into an incredible family room? We have the design-build remodel contractors you need to transform your space. Contact ElkStone Homes to learn more about our finished basement renovations today.